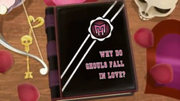 Monster High: Why Do Ghouls Fall In Love? is the third Monster High TV special, and it premiered on February 12th, 2012. This was the first Monster High movie to be CGI-animated and was the first time Venus McFlytrap appeared in the Monster High series.
Ghoulia then finds Heath Burns is her perfect match and Clawd decides to give Draculaura a box of the items that reminded her how she fell in love with him, but she finds out Valentine transferred to Monster High and starts to date him, but she soon realizes that she moved on with Clawd, but after she tells Valentine (who has been revealed to purposely break the hearts of the girls he originally dated once they were completely in love with him, he would then display a picture of the girl on a stand shaped like a broken heart, he refers to this as "harvesting their heart, but of course, he doesn't mean it literally.), he is forced to hypnotize her into loving him. The ghouls soon find out by sending Spectra to spy on Valentine and find out that Toralei put him up to it and on Draculaura's birthday, she will be permenantly under his control. The ghouls then turn to C.A. Cupid who agrees to help them by shooting Draculaura with one of her arrows so she will fall in love with Clawd.
Venus McFlytrap's scene
Edit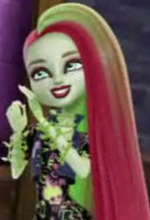 Venus appeared when Valentine was walking down the hall. She and another ghoul were practically drooling over him. Venus does not speak in this movie and wasn't introduced yet, so she served as a background character. Her first apperance, after being introduced through the doll line, was Escape from Skull Shores but she didn't have a speaking role until Ghouls Rule.