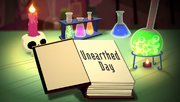 Unearthed Day is Monster High's eleventh webisode of volume three. This episode marked the first appearance of Venus McFlytrap. In this episode, Frankie helps Venus devise a freaky-fab plan to get the student bodies charged up about recycling.
Gory is campaigning to be elected for one function or another and is handing out flyers, many of which end up on the ground. Venus picks some of them up and puts them in the appropriate trashcan. She tries to convince Manny to be as considerate with his trash, but he considers it too much trouble. When she tries to encourage Heath to recycle, he refuses. Venus user her pollen persuasion powers to change his tune, but she understands he's only one among billions she needs to convince to take care of the environment.
While talking with a tree outside, Abbey and Frankie overhear and offer to help. The trio goes to see Cleo, because as the most popular ghoul at Monster High, her popularity allows her to influence the whole school in a way none of them can. Cleo does want to help, but thinks that associating herself with trash would sooner harm her popularity than boost the will to recycle in the other students. She elaborates they need to make recycling cool, on which Clawdeen suggests a fashion show.
The girls get to work recycling trash into fashionable dresses, and with the help of some friends they turn the creepateria into a fashion hall. Heath hosts the show, which easily sways the students' mindset on recycling. At the end of the show, the trash in the creepateria is all sorted in the appropriate trashcans, and Venus is happy.