Basic Venus Doll
Edit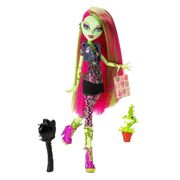 Venus wears a black tee with bright green and pink writing spread across it, accentuated by an unbuttoned denim jacket. She also wears a black miniskirt and pink leggings, decorated with yellow and green flowers. Her shoes are pink boots with long, spiraled heels with prominent "mouths", each containing a row of menacing teeth, and laced with bright green laces. Her eyeshadow and lipstick are bright pink, and she wears three vines resembling hoop earrings on her right ear, and a dangling spiraled earring in her left.
Untitled Swim Assortment Doll
Edit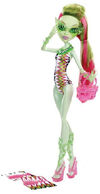 Release Date: Summer 2013
Venus wears a white swimsuit with a green, black, and hot pink zig-zag design. She also wears a green necklace with a white zig-zag design and green sunglasses. Her shoes are pink flip flop wedges, her lips are a light pink, and she carries a bright pink purse to match. Her hair is pulled back in a pony tail with a poof in front.